Conveyer belt plays an important role in ground transportation, underground transportation and inclined shaft transportation in modern mining production. It's key components is synchronous transmission gear. Fote Machinery will take conveyer belt for example and analyzes its driving structure and working principle.
1. Structure of the nose driving section of conveyer belt.
The main drive part is composed of two sets of electric motors, two sets of reducers, and two main transmission drums respectively connected by coupling, inner gear sleeve and outer gear sleeve.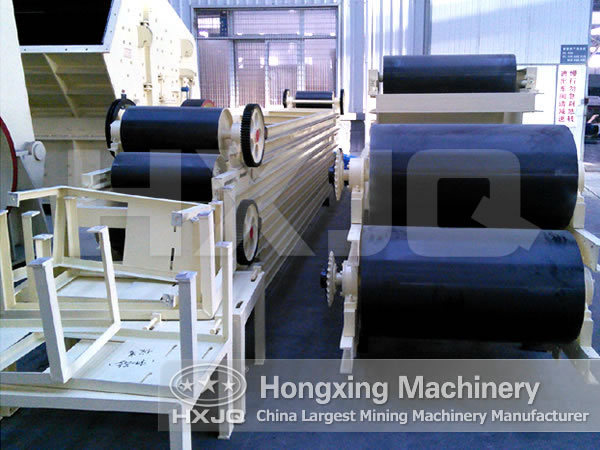 2. Connection mode.
The two electric motors and reducers are respectively connected by hydraulic clutch; The two reducers and main transmission drums are linked by a pair of inner and outer gear sleeves. The inner bores of inner gear sleeve and outer gear sleeve are separately joined on reducer's output shaft and the input end on main transmission drum in the form of splines, and the inter and outer gear sleeves are connected in meshing mode by M4 inner gear and Z54 outer gear; Another ends of the two main transmission drum shafts are separately engaged with a transmission gear, with a speed ratio of 1:1. The main drive system is driven by two electric motors and meshing with two gears, outputting the same torque by rigid connection, which ensure the whole conveyer belt running smoothly and safely.
3. Working Principle.
Start by two electric motors at same speed, and run through the hydraulic clutch driving the two sets of reducers. At the same time, the output ends of reducers drive the two main transmission drums to rotate through the connection of inter and outer gear sleeves, and then drive the whole set of conveyer belt to run through the friction force between the outer edge of main transmission drums and belt surface.