In the production process, vibrating feeder can evenly, regularly and continuously feed materials in bulk or granular into material receiving device from the storage bin. In sandstone production line, it is used to feed the crushing equipment evenly and continuously and to conduct the coarse screening for materials, widely applied to the crushing and screening equipment in metallurgy, coal mine, beneficiation, building materials, chemical industry, abrasive materials and other fields.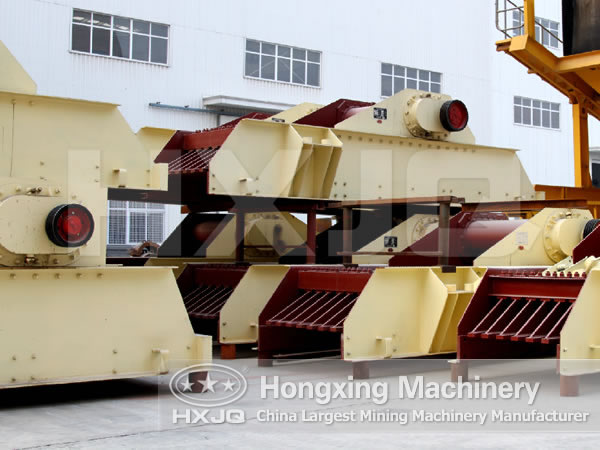 The vibrating feeder employs a structure of double eccentric shafts vibrator, which guarantees the equipment able to endure the huge impact force deriving from the large-bulk materials falling off and capable of a high feeding capacity.
During the production process it can feed massive or granular materials from the storage bin evenly, regularly and continuously into the processing equipment, so as to protect the equipment from the phenomenon of system halted caused by uneven feeding, and effectively prolong the service life of the crushing machine.
The vibrating feeder can be divided into steel structure and grate structure. The former kind of feeder is mainly used in sandstone production line to feed materials evenly into the crushing equipment; The latter feeder can classify and screen materials roughly, making the system more economic and reasonable on the preparation, which has been an indispensable equipment in crushing and screening machinery.