Introduction Of High Pressure Grinding Mill
High pressure grinding mill also belongs to pendulum type powder grinding mill. On the plum frame, the high pressure grinding mill is designed with pressure device; and equipped with high-pressure spring, the output of this powder grinding mill is improved by 10-30% under the same power.
High pressure grinding mill is widely used for grinding non-flammable and non-explosive non-metallic materials whose Moh's hardness is below 9.3 and humidity less than 6% and it is the ideal choice for processing quartz, feldspar, calcite, limestone, talc, ceramic, marble, granite, dolomite, bauxite, iron ore, barite, bentonite, coal gangue and coal.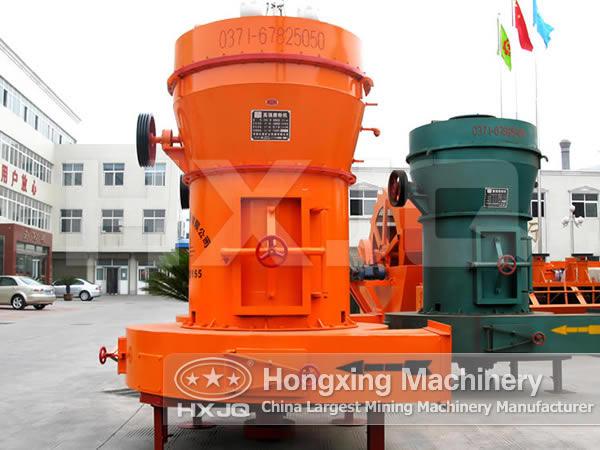 Features Of High Pressure Grinding Mill
1. Under the same dynamic condition, its output improves by 10-20% compared with other mills. The ground pressure of grinder roll to materials improves 800-1200kg under the impact of high pressure spring.
2. Mineral materials whose Mohs hardness is less than 9.3 degree can be crushed and processed.
3. Its finished products particles size has a wide range, the largest grain diameter reaches up to 0.613 mm (30 mesh) while the general size is up to 0.033 mm (425 mesh), few materials of which can reach 0.013 mm (1000 mesh).
4. The dust removal effect can completely reach to national dust emission standard.
5. The analytical engine is convenient to adjust.
6. Abrasive device uses superimposed multistage seal and has good sealing performance.
Principle Of High Pressure Grinding Mill
When high pressure grinding mill works, the materials are first crushed to the needed feeding granularity by jaw crusher and then conveyed by bucket elevator to the material storage hopper, and then by the electromagnetic vibrating feeder, the materials are evenly sent into the grinding chamber of the powder grinding mill. While rotating together with the grinding roll, the scraper knife will scoop up the materials to the space between the grinding roll and the grinding ring to form a padding layer, and the materials will be ground here and complete the powder grinding process.
Technica Data of High Pressure Grinding Mill