Introduction Of Disk Grain Making Machine
Disk grain making machine uses unitary arc structure, and the granulation rate can reach over 93%. There are three discharging mouths for the convenience of intermittent production, thus greatly reducing the labor strength and improving the working efficiency. Disk granulator is widely used in such industries as chemistry, petrifaction, pharmacy, food, building material, metallurgy, mining, printing and dyeing, ceramics, rubber and plastics and also used for pelleting organic fertilizer.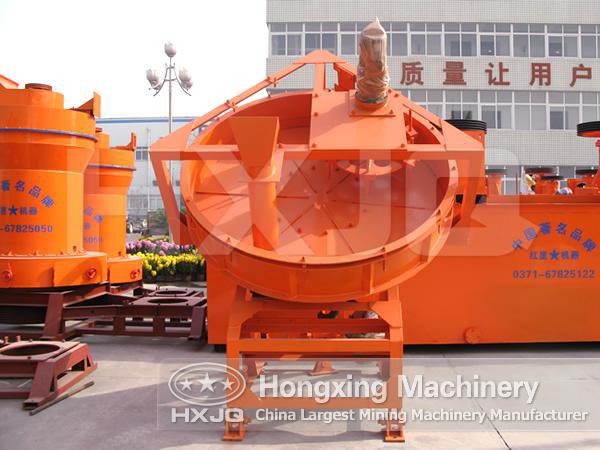 Features Of Disk Granulator
1. Disk grain making machine's structure is new and suitable. Its weight is light. Its height is low. Its process layout is flexible. And it is suitable to reformation of old factory.
2. The tilt of market is adjustable. Disk grain making machine uses angle of gasket, which makes it convenient to adjust.
3. Disk grain making machine adopts unpowered composite scraper, which can help it decrease power consumption.
4. The grail includes chuck body and disc section, which can decrease the power of main motor. Plate section can be adjusted up and down along the plate body. The end of plate is made of the flange, which can protect materials from breaking.
5. Disk grain making machine is designed with unpowered composite scraper and horn scraper liquidation. Disk grain making machine has a good effect of cleaning and ball making. The diameter of 90% pellet is 3-5mm.
Principle Of Disk Grain Making Machine
The disk grain making machine uses the pre-watering overall balling method. The raw material powders are evenly moistened by the atomized water in the double-shaft mixer and form nuclear bulges with even granularity, and then they are sent to the balling disk to become balls. The water content of the balls should be controlled in the range of 12~14%. The water should be added when the raw materials are in the double-shaft mixer and in the balling disk, only a small amount of supplementary water can be added and the supplementary water amount should be control in the range of 0~3%. When making dry powders, water should be directly added into the balling disk and the workers should spray property amount of water. When the raw material ball bulges go into the balling disk, they will move along the parabola under the eccentric force, frictional force and gravity.
Technical Data of Disk Grain Making Machine
Specification
(m)

Rotation speed
(r/min)

Production capacity
(t/h)

Motor
(kw)

Adjustment range of obliquity

Dimensions
(m)

Total weight
(t)

Φ2.2

14.25

4-8

7.5

35-55

2.8×2.75×2.58

3.2

Φ2.5

11.81

5-10

7.5

35-55

3.2×2.3×3

3.6

Φ2.8

11.21

12-16

7.5

35-55

3.4×2.6×3.1

4.1

Φ3.0

11.3

15-18

11

35-55

3.7×2.7×3.3

4.8

Φ3.2

9.6

15-20

11

35-55

3.9×2.7×3.4

5.6

Φ3.6

9.1

18-24

15

35-55

4.3×3.1×4.0

7.2