Introduction Of Raw Material Mill
Raw materials mill is the vital equipment used for further crushing materials after they are crushed and mixed by crusher equipment. It is mainly used for the powder grinding of raw materials in cement plant, and also used for grinding all kinds of ores and other grindable materials in such industrial and mining enterprises as metallurgy, chemistry and power.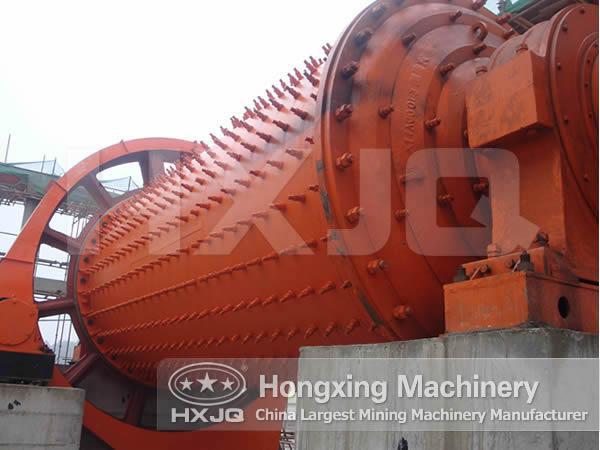 Features Of Raw Material Mill
Inside the cylinder, new type of segregating lining boards and standard ladder-type lining board are adopted, which increases the grinding superficial area of the materials, improves the classification effect and makes the follow-up maintenance and change of the spare parts simpler. The new type of partition cabin structure adopts adjustable lifting board and fixed lifting board, which is easy to install and maintain.
Principle Of Raw Material Mill
Raw material mill adopts edge driving method. After the materials to be ground evenly and continuously go inside the raw materials through the feeder machine, the electric motor will drives the cylinder of the powder grinding mill to rotate through the reducer. The materials first go inside the first cabin along the hollow shaft spiral, and the steel ball media inside the mill and the materials will sustain the frictional force and centrifugal forces produced by the rotation of the cylinder. And the materials will be brought to a certain height, and then scatter and fall down in a curtain shape and then will be impacted and ground by the steel balls. The crushed final products will be discharged out of the powder grinding mill and the qualified products will be separated out by the separation equipment. In the circulation grinding system, the unqualified materials will be returned to the powder grinding mill to be impacted and ground by the grinding media until they reach the qualified fineness.
Technical Data of Raw Material Mill
Product specification
(m)
Milling form
Transmission form
Gear box
Motor power
(kw)
Production capacity
(t/h)
Total weight
(t)
Model
Speed reduction ratio
Φ1.5×5.7
Open flow
Brim
ZD40
3.55
130
4.5-6
25.8
Φ1.8×6.4
Open flow
Brim
ZD60
4.5
210
7.5-15
43
Φ2.2×6.5
Circle flow
Brim
ZD70
5
380
14-26
60
Φ2.4×7
Circle flow
Brim
ZD70
5
475
24-28
81
Φ2.4×10
Circle flow
Brim
ZD80-4-LL
6.44
570
32-36
118
Φ2.6×10
Circle flow
Brim
JDX710
6.3
800
45-50
130
Φ3×9
Open flow
Brim
JDX800
6.3
1000
55-60
158
Φ3.2×9
Circle flow
Brim
MBY900
7.1
1250
62-65
195
Φ3.5×10
Open flow
Brim
JDX900
5.84
1250
70-75
200
Φ3.8×7.5
Circle flow
Brim
JDX900
5.6
1600
80
233
Φ4.6×10+3.5
Circle flow
Central shaft
JQS3550
15.1
3550
190
415
Φ4.6×10.5+3.5
Circle flow
Central shaft
JQS3550
15.1
3550
210
476