Introduction Of Roll Crusher
Roll crusher also can be called roller crusher,double roll crusher or teeth roll crusher,is suitable to be used in such industrial departments as cement, chemistry, power, metallurgy, building material and refractory for the medium and fine crushing of medium hard materials such as limestone, slag, coke and coal. This series of double roll crusher is mainly composed of rolling wheel, supporting bearing for the rolling wheel, pressing and adjusting device and driving device.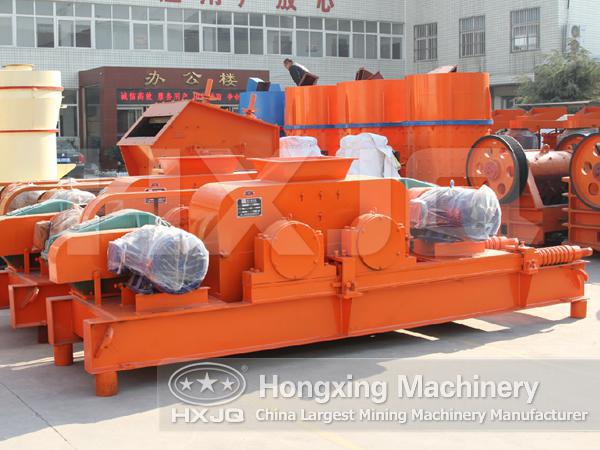 Features Of Double Roll Crusher
The gear transmission device of the double roll crusher mainly consists of fixed roller, dynamic roller, transmission shaft, main engine, chassis, covering shell and long gear covering shell. The roller crusher is powered by the V-belt pulley on the motor, and through a couple of middle reducers, it drives the fixed roller to spin and relying on the couple of long gear pulley installed on the other end of the fixed roller, the dynamic roller is driven. The two rollers are moving towards each other for squeezing materials.
Principle Of Teeth Roll Crusher
As the rollers of the teeth roll crusher is smooth, it has not only crushing function, but grinding function. After the materials go into the crushing chamber of the machine, under the driving force of the rotating roller, the materials will be pushed to be space between the two rollers. At the same time, influenced by the squeezing, cutting and grinding force of the rollers, the materials will begin to break. The broken small-sized particles will be thrown to bottom of the machine through the gap between the two rollers along the tangent line of the rotation of the rollers. The materials bigger than the gap will continued to be crushed to small particles.
Technical Data of Roll Crusher
| | | | | | | | |
| --- | --- | --- | --- | --- | --- | --- | --- |
| Model | 2PG0425 | 2PG0640 | 2PG0740 | 2PG0850 | 2PG1060 | 2PG1260 | 2PG1560 |
| Roller diameter(mm) | Ф400 | Ф600 | Ф700 | Ф800 | Ф1000 | Ф1200 | Ф1500 |
| Roller width(mm) | 250 | 400 | 400 | 500 | 600 | 600 | 600 |
| Input Size(mm) | ≤25 | ≤25 | ≤25 | ≤25 | ≤30 | ≤30 | ≤30 |
| Discharging Gate(mm) | 2-8 | 2-8 | 2-8 | 2-8 | 2-10 | 2-10 | 2-10 |
| Processing capacity(t/h) | 5-10 | 10-20 | 15-30 | 20-40 | 30-50 | 40-70 | 60-110 |
| Power Models | Y132M-6 | Y180L-6 | Y200L-4 | Y225M-4 | Y250M-4 | Y315M-6 | Y315L-6 |
| Motor power(kw) | 5.5×2 | 15×2 | 30×2 | 45×2 | 55×2 | 75×2 | 110×2 |