Introduction Of Hammer Mill
Hammer mill, which is also called ,hammer crusher,hammer crusher machine or hammer mill crusher,is mainly used for crushing all kinds of materials with medium hardness and weak corrosive property. The compression strength of the materials to be crushed by hammer mill should not exceed 100MPa and the water content should be lower than 15% and the materials suitable to be processed by hammer mill include coal, salt, chalk, gypsum, brick and limestone. In addition, hammer crusher is also suitable for crushing fiber structure, broken wood with strong elasticity and tenacity, paper and the waste materials of asbestos cement to recycle asbestos fiber.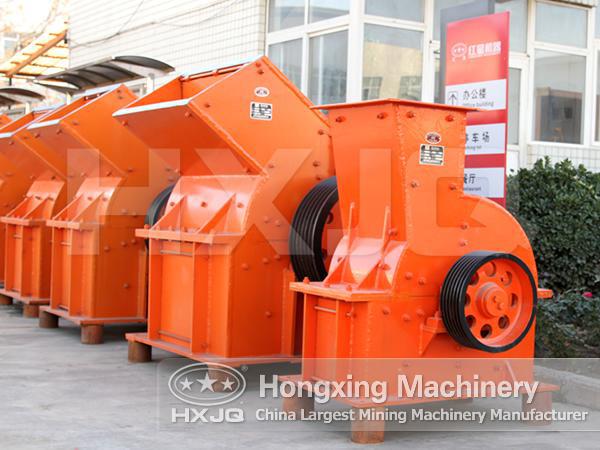 Features Of Hammer Crusher
1. Hammer crusher has advanced designing technology, compact structure and shock resistance
2. Hammer crusher has big feeding material particle size, high rate of finished products, good particle shape
3. Strong crushing ability; rough, medium and fine crushing can be finished in one step.
4. Increasing yield by 30% on year-on-year basis, reducing needle and flake shaped and powdery products by 20%, more energy saving
5. The hammerhead and the sieve plate are made of manganese alloy with strong shock resistance and abrasion resistance.
Principle Of Hammer Crusher Machine
The materials are fed into the machine from the upper feeding mouth and are crushed under the hitting, impacting, cutting and grinding of the hammer which is moving with high speed. On the bottom of the rotor, there is sieve plate and the crushed materials that is smaller than the screen size are discharged from the sieve plate, and the coarse particles bigger than the screen size are retained on the sieve plate to be hit and ground again by the hammer and finally be discharged from the machine from the sieve plate.
Technical Data of Hammer Crusher
Specification
Capacity(m³/h)

Motor Power
(kw)
PCΦ400×300
5-10
4P 11KW
PCΦ600×400
10-22
4P 22KW
PCΦ800×600
18-40
6P 55KW
PCΦ1000×800
25-50
8P 75KW
PCΦ1000×1000
30-55
8P 90KW