Introduction Of Raymond Mill
Raymond mill, which can also be called raymond grinder, raymond grinding mill or raymond pulverizer, is a highly efficient powder grinding mill, and seem from outside, it looks like a vertical steel vessel with air inlet and air outlet and there is material feeding mouth in the middle.
Raymond grinder is widely used for grinding non-flammable and non-explosive non-metallic materials whose Moh's hardness is below 9.3 and humidity less than 6% such as barite, calcite, potassium feldspar, talc, marble, limestone, dolomite, fluorite and lime, activated clay, activated carbon, bentonite, kaolin, cement, phosphate rock, gypsum, glass and thermal insulation material in mine, metallurgy, chemistry and building industry. The granularity of the final products can be adjusted in the ranges of 60-325 meshes.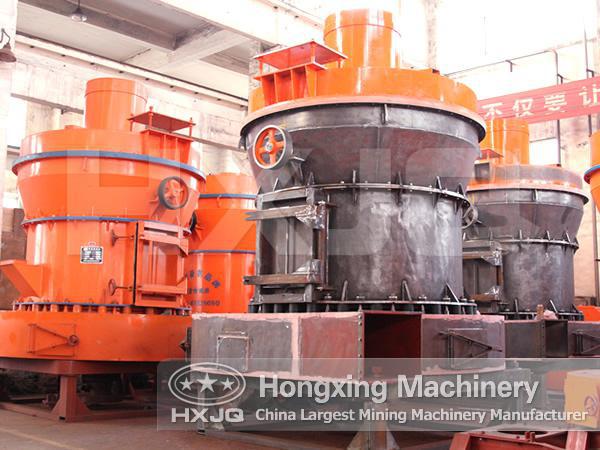 Features Of Raymond Grinder
1. It has vertical structure, a relatively small footprint, strong systematic. It can be a self-contained independent production system whether from the rough processing of raw materials or the transportation to the final milling and packaging.
2. In contrast with other milling equipment, it has high through screening rate which is up to 99%, other milling equipment are generally unattainable.
3. Host drive adopts enclosed gear box and pulleys with stable and reliable operation.
4. The important parts adopt high quality castings and profiles manufacturing, sophisticated technology, rigorous process to ensure the durability of the entire device.
5. Electrical system uses centralized control, milling workshop can basically achieve unmanned operation, easy maintenance.
Principle Of Raymond Pulverizer
After being crushed to the needed granularity, the materials will be sent by the bucket elevator to the material storage hopper, and then by vibrating feeder, the materials will be evenly and continuously sent into the grinding room of Raymond mill. Under the centrifugal force produced by the rotation of the cylinder, the grinding roll will swing outward and tightly press on the grinding ring. The scraper knife will scoop up the materials and send them into the space between the grinding roll and the grinding ring, and under the rolling the grinding roll, the materials will be crushed. The ground fine particles will be brought by the recirculating air of the air blower into the analyzer for separation, and the materials with coarse granularity will fall to the powder grinding mil to be ground again, and the qualified fine particles will go along with the air flow into the cyclone power collector of finished products, and they will be discharged from the powder discharging tube to become final products.
Technical Data of Raymond Mill
| | | |
| --- | --- | --- |
| Model | 4525 | 4119 |
| Feeding Size(mm) | ≤30 | ≤25 |
| Output Size(mm) | 0.173-0.044 | 0.173-0.044 |
| Shift Output of Different Material Fineness(t) | 16-176 | 8-78 |
| Rotation Speed of Central Shaft(r/min) | 82 | 105 |
| Ring Diameter(mm) | 1770 | 1400 |
| Roller Diameter(mm) | 450 | 410 |
| Roller Height(mm) | 250 | 190 |
| Main Motor | Y315M-4-132 | Y280S-4-75 |
| Fan Motor | Y315M-4-132 | Y280S-4-75 |
| Analyzer Motor | YCT250-4A-18.5 | YCT200-4B-7.5 |