Introduction Of Impact Crusher
Impact crusher, which can also be called impact breaker, impact stone crusher, is a machine used for crushing medium-hard and crisp materials relying on the impact energy. It is widely used in many industrial departments such as building material, chemistry and coal for the coarse, medium and fine crushing of medium hard crisp materials such as limestone, dolomite, shale, sandstone, coal, asbestos, graphite and rock salt.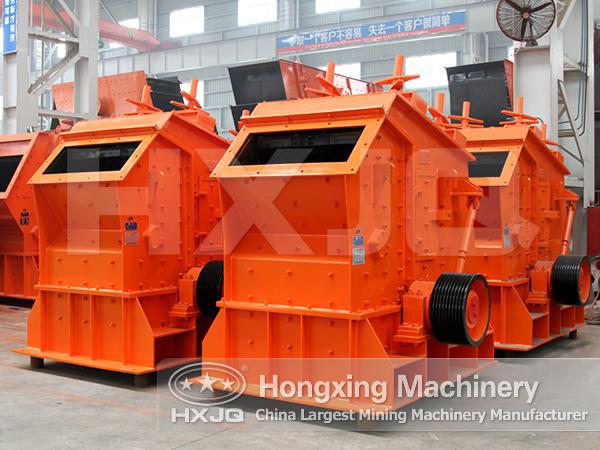 Features Of China Impact Crusher
1. The impact crusher has features of simple structure, small volume, little weight, high production, low production cost, big feed port, tall crushing cavity and suitable for materials with good hardness.
2. The minerals are crushed along the joint surface, thus realizing low power consumption and high efficiency.
3. The impact breaker has a high crushing ratio of 40, thus simplifying the crushing process from the three periods crushing to two or one period crushing, which saves the equipment fee of the dressing plant.
4. It's simple to adjust the space between the impact plate and the plate hammer, so material size is easy to control and with good particle shape.
5. The chromium plate hammer is featured in shock resistance, abrasion resistance and great impacting force.
6. The whole impact crusher has realized seamless connection which makes it easy to maintain and economical and durable to apply.
7. The impact crusher has complete function and high production. It produces little machine parts abrasion and high overall efficiency.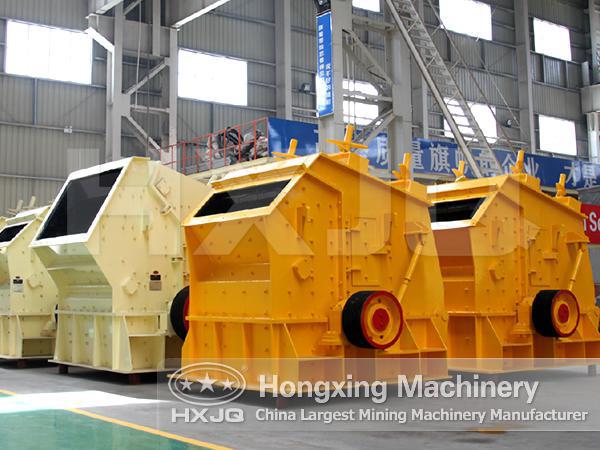 Principle Of Impact Stone Crusher
When the impact stone crusher works, driven by the electro motor, the rotor will rotate with high speed, and when the materials go into the action zone of the plate hammer, they will strike and are crushed on the plate of the rotor, and then are crushed again when they are thrown to the impacting device, and then the materials will bounce back from the impact lining board and go to the action zone of the plate hammer and are crushed again. This process will proceed repeatedly, and the materials go into the first, second and third impacting chamber to be crushed until they are crushed to the required granularity, and then discharged from the discharging mouth.
Technical Data of Impact Crusher
Model
Specification
(mm)
Feed
opening
(mm)
The Maximum
Feeding Size
(mm)
Capacity
(t/h)
Power
(kw)
Overall
dimension
(L×W×H)
(mm)
Total
weight
(t)
PF-1007
Φ1000×700
400×730
300
30-70
4P 37-45
2330×1660×2300
12
PF-1010
Φ1000×1050
400×1080
350
50-90
4P 45-55
2370×1700×2390
15
PF-1210
Φ1250×1050
400×1080
350
70-130
6P 110
2680×2160×2800
17.7
PF-1214
Φ1250×1400
400×1430
350
80-180
6P 132
2650×2460×2800
22.4
PF-1315
Φ1320×1500
860×1520
500
100-280
6P 200
3180×2720×3120
27
PF-1320
Φ1300×2000
993×2000
500
140-380
6P 250
3220×3100×3120
34
PF-1520
Φ1500×2000
830×2040
700
200-550
4P 315-400
3959×3564×3330
50.6
PF-1820
Φ1800×2000
1260×2040
800
400-800
4P 630-710
4400×3866×4009
83.21