Introduction Of Belt Conveyor
Belt conveyor also can be called bucket hoist conveyor,conveyor belt system or convery belt,is a material conveyance machine used for continuously conveying materials on a certain line, so that it is also called continuous convery belt. Conveyor belt can convey materials horizontally or with a slope, or form a space conveyance line which is generally fixed. Conveyor belt has big conveyance ability and long conveyance distance. In addition, in the conveying process, it can also complete several technical operation, so that it has wide application.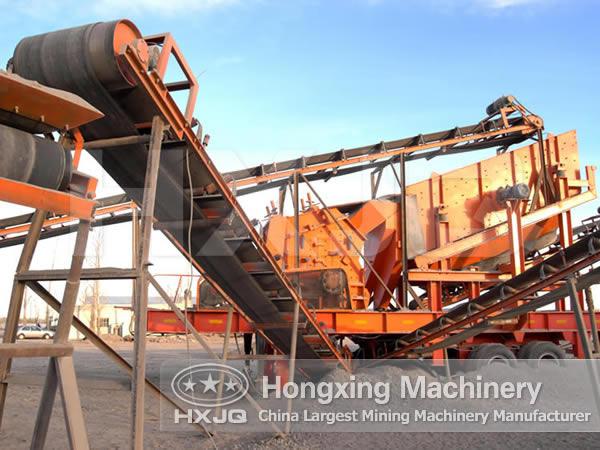 Features Of Conveyor Belt System
The conveyor adopts the motorized pulley with high efficiency, simple structure, adjustable height and easy maintenance. There are universal wheels installed at the bottom of the conveyor, which makes it flexible to move. Customers can directly drive the conveyor in and out of the warehouse and can change its practical length and lifting height according to the actual field condition.
Principle Of Convery Belt
Convery belt is a belt linked end-end, forming a closed ring which is hung around the driving roll of the conveyor and the redirection roll of the tail. In the middle part of the conveyor, there are many rollers to support it to maintain certain shape and working state.
Above one end of the conveyor belt, there is loading device used for conveying the materials onto the belt, and on the other hand, there is unloading device used for unloading the materials from the belt. In the production and transportation process of stone materials, the unloading end is set on the terminal end of the belt conveyor.
Technical Data of Belt Conveyor
Belt width(mm)
Conveying length(m)
Power(kw)
Conveying speed(m/s)
Conveying amount(t/h)
400
≤10
3
12-15
3-4
15-30
4-7.5
1.25-2.0
30-60
500
≤10
3
12-15
4-5.5
15-30
5.5-7.5
1.25-2.0
40-80
650
≤10
4
12-15
7.5
15-30
7.5-11
1.25-2.0
80-120
800
≤10
4
12-15
7.5
15-30
7.5-15
1.25-2.0
120-200
1000
≤10
5.5
10-20
7.5-11
20-40
11-22
1.25-2.0
200-320
1200
≤10
7.5
10-20
7.5-15
20-40
15-30
1.25-2.0
290-480
1400
≤10
11
10-20
15-22
20-40
22-45
1.25-2.0
400-680
1600
≤10
15
10-20
22-30
20-50
30-75
1.25-2.0
600-1080
1800
≤10
18.5
10-20
30-45
20-50
45-110
1.0-2.0
800-1500
2000
≤10
22
10-20
45-55
20-50
55-132
1.0-2.0
1000-2000
2400
≤10
30
10-20
55-75
20-50
75-185
1.0-2.0
1500-3000