Introduction Of Dryer Machine
Dryer machine, which can also be called drying equipment or drying machine, is mainly used for drying the materials with a certain moisture and granularity in such industrial departments as ore beneficiation, building material, metallurgy and chemistry.
Drying machine has strong adaptability to the materials and it can be used for drying all kinds of materials; in addition, the operation of the equipment is simple and reliable, so that it is widely used.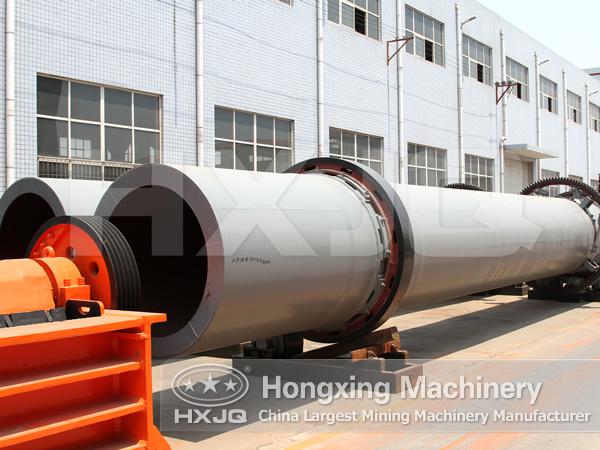 Features Of Drying Equipment
This machine is mainly composed of rotary part, lifting board, transmission part, supporting part and seal ring. The dryer machine produced by our company uses new lifting board with many functions of guiding, current sharing and material lifting, and the materials can be comprehensively distributed on the radial sections of the dryer machine and the material curtain is in the thin, average and full state and the materials can fully contact the hot air, thus achieving the aim of making full use of the heat. The dryer machine produced by our company uses reasonable running parameters, and the coal and electricity consumption is reduced by over 10-15% and the output per machine is improved by over 10-15%, so that it has been widely used in the cement plants and ore beneficiation plants.
Principle Of China Dryers
Through the power produced by electric power, diesel oil force, wind force or inflammable material force to heat the environment air and convey the hot hear around, and the air around will reach the suitable temperature and the materials will be dried.
Technical Data of Dryer Machine
Spec./m
(Dia.×Length)

Shell Cubage
(m³)

Capacity
(t/h)

Installation
Obliquity
(%)

Highest Inlet
Air Temperature
(℃)

Main Motor
(kw)

Weight
(t)

Φ1.2×8.0

9.0

1.9~2.4

3~5

700~800

7.5

9

Φ1.2×10

11.3

2.4~3.0

3~5

700~800

7.5

11

Φ1.5×12

21.2

4.5~5.7

3~5

700~800

15

18.5

Φ1.5×14

24.7

5.3~6.6

3~5

700~800

15

19.7

Φ1.5×15

26.5

5.7~7.1

3~5

700~800

15

20.5

Φ1.8×12

30.5

6.5~8.1

3~5

700~800

18.5

21.5

Φ1.8×14

35.6

7.6~9.5

3~5

700~800

18.5

23

Φ2.2×12

45.6

9.7~12.2

3~5

700~800

22

33.5

Φ2.2×14

53.2

11.4~14.2

3~5

700~800

22

36

Φ2.2×16

60.8

13.0~16.2

3~5

700~800

22

38

Φ2.4×14

63.3

13.5~16.9

3~5


700~800

37

45

Φ2.4×18

81.4

17.4~21.7

3~5

700~800

37

49

Φ2.4×20

90.4

19.3~24.1

3~5

700~800

45

54

Φ2.4×22

99.5

21.2~26.5

3~5

700~800

45

58

Φ2.6×24

127.4

27.2~34.0

3~5

700~800

55

73

Φ3.0×20

141.3

30.1~37.7

3~5

700~800

75

85

Φ3.0×25

176.6

37.7~47.1

3~5

700~800

75

95

Φ3.2×25

201

42.9~53.6

3~5

700~800

90

110

Φ3.6×28

285

60.8~76.0

3~5

700~800

160

135
Technical parameters of indirect heat dryer:
Shell
diameter
×shell
Length
Items
Inside
diameter
of outer
shell
(mm)
Inside
diameter
of inner
shell
(mm)
Shell
Length
(m)
Shell
cubage
(m³)
Shell
obliquity
Lifting
blade
form
Highest
inlet air
temperature
(℃)
Dimensions
(m)
Φ1.5×15m
1500
500
15
20.27
3-5%
Lifting form
850
16.2×2.7×2.7
Φ1.5×17m
17
22.97
18.2×2.7×2.7
Φ1.5×19m
19
25.68
20.0×2.9×2.9
Φ1.8×21m
1800
650
21
35.91
3-5%
Lifting form
850
22.5×2.7×2.7
Φ1.8×23m
23
39.33
24.5×2.9×2.9
Φ1.8×25m
25
42.75
26.5×2.9×2.9
Φ2.2×21m
2200
800
21
58.10
3-5%
Lifting form
850
----
Φ2.2×23m
23
63.61
Φ2.2×25m
25
69.15