Introduction Of Mobile Crusher
Mobile crusher can also be called mobile stone crusher plant or tyre mobile crusher. It is a simple stone production line which is mainly used for the material processing in metallurgy, chemistry, building material and water and electricity, and it is especially suitable to be used in highway, railway, construction, water conservancy and metallurgy.
According to types of the raw materials to be process and the size and the requirement for the final products, different configuration types can be adopted. Its design philosophy and purpose is to stand from the point view of the customers, and eliminate the obstacles brought by the crushing site and the environment to the customers and provide customers with project operation facilities with high efficiency and low cost.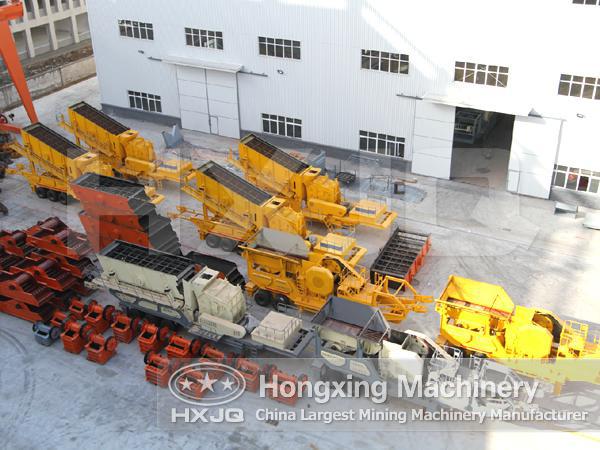 Features Of Mobile Stone Crusher Plant
1. Mobility: short distance between shafts, small radius of turning circle, and the ability of moving flexibly on the ordinary roads and inside operation area.
2. Reducing the cost of material transportation: the mobile crushing plant can do field processing without moving materials away from the operation site, which greatly reduces the transportation cost of materials.
3. Direct operation effect: the integrative series of the mobile crushing plant can be used independently and flexible process configuration is also provided to customers according to different materials and product requirement.
4. Flexible combination and good adaptability: various combinations can realize independent operation and great flexibility.
5. The integrative set of equipment: the integrative set installation pattern avoids the installing steps of the infrastructure of the divided parts of the whole set in complex field, thus reducing both materials and working hours. The rational and compact spatial arrangement of the whole set increases the flexibility of the site residence.
6. Reliable performance and simple maintenance.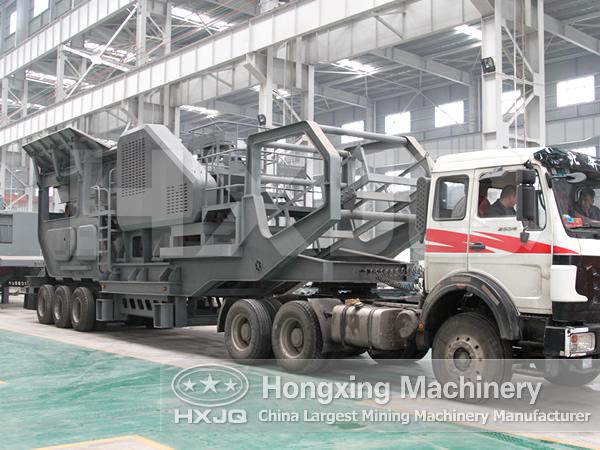 Principle Of china mobile crushers
The movable jaw of the crusher is hung onto the mandrel and can move back and forth. When the eccentric shaft rotates, the connecting rod will move up and down, which will drive the two thrust plate to move up and down, thus driving the movable jaw of the crusher to move back and forth to realize crushing and material discharging. This crusher adopts crank dual-linage mechanism. Even though there is big stone impact force on the movable jaw, the stress on the eccentric shaft and connecting rod is not big, so that it is often manufactured to be large and medium-sized crusher to crush hard materials.
MOBLIE IMPACT CRUSHER TECHNICAL PARAMETERS
| | | | | | |
| --- | --- | --- | --- | --- | --- |
| Model | HX938F1210 | HX938FW1214 | HX1149F1315 | HX1349HD1110 | HX1349HD1315 |
| Transportation Length(mm) | 12000 | 12000 | 13900 | 15450 | 15450 |
| Transportation Width(mm) | 2550 | 2550 | 2900 | 2950 | 2950 |
| Transportation Height(mm) | 3900 | 3900 | 4450 | 4500 | 4500 |
| Maximum Length(mm) | 12500 | 12500 | 13900 | 15450 | 15450 |
| Maximum Width(mm) | 3250 | 3260 | 3250 | 3250 | 3250 |
| Maximum Height(mm) | 5100 | 5200 | 5200 | 5200 | 5200 |
| Weight(t) | 39 | 44 | 54 | 62 | 62 |
| Crusher Model | PF-1210 | PF-1214 | PF-1315 | HD1110 | HD1315 |
| The Maximum Feeding Size(mm) | 350 | 350 | 500 | 400 | 700 |
| Production Capacity(t/h) | 70-130 | 100-180 | 130-250 | 112 | 280 |
| Vibrating Feeder | ZSW950×3800 | ZSW950×3800 | ZSW110×4900 | ZSW130×4900 | ZSW130×4900 |
| Main Belt Conveyor | B800×8.5M | B800×8.5M | B1000×9.5M | B800×11M | B1200×11M |
| Side-opening Belt conveyor(Optional) | B500×3.2M | B500×3.2M | B650×4M | B650×4M | B650×4M |
| Genset(Optional) (kw) | 320 | 320 | 400 | 320 | 440 |
| Iron Separator (Optional)(kw) | RCYD(C)-8 | RCYD(C)-8 | RCYD(C)-10 | RCYD(C)-8 | RCYD(C)-12 |
MOBLIE JAW CRUSHER TECHNICAL PARAMETERS
| | | | | |
| --- | --- | --- | --- | --- |
| Model | HX938HD80 | HX1149HD98 | HX1349HD110 | HX1349HD125 |
| Transportation Length(mm) | 12600 | 13500 | 14500 | 15200 |
| Transportation Width(mm) | 2600 | 2700 | 2800 | 2900 |
| Transportation Height(mm) | 3870 | 4200 | 4450 | 4500 |
| Maximum Length(mm) | 12500 | 14000 | 16100 | 14700 |
| Maximum Width(mm) | 4100 | 4500 | 5100 | 5100 |
| Maximum Height(mm) | 4100 | 4900 | 5000 | 5300 |
| Weight(t) | 39 | 57 | 55 | 65 |
| Tire Configuration | Dual-axial | Dual-axial | Dual-axial | Dual-axial |
| Jaw Crusher | HD80 | HD98 | HD110 | HD125 |
| Maximum Feeding Size(mm) | 500 | 550 | 660 | 800 |
| Discharge Opening Size(mm) | 50-150 | 75-175 | 100-200 | 125-225 |
| Capacity(t/h) | 85-275 | 110-350 | 215-510 | 280-650 |
| Vibrating Model | ZSW380×95 | ZSW420×110 | ZSW490×130 | ZSW490×130 |
| Main Belt Conveyor | B800×8.5M | B1000×9.5M | B1000×11M | B1200×11M |
| Side-opening Belt conveyor(Optional) | B500×3M | B650×3.5M | B650×4M | B650×4M |
| Genset(Optional) (kw) | 200 | 250 | 270 | 400 |
| Iron Separator (Optional) | RCYD(C)-8 | RCYD(C)-10 | RCYD(C)-10 | RCYD(C)-12 |