Introduction Of Sand Maker
Sand maker is also called sand making machine,vsi sand maker or artificial sand maker,suitable for the crushing and reshaping of soft or medium hard and super hard materials and it is widely used for processing all kinds of ores, cement, refractory, bauxite clinker, emery, glass raw material, artificial stone material and gold slag.
Sand making machine has higher output than other types of crusher machines when dealing with carborundum, emery, sintering bauxite, magnesia and other high hard, super hard and corrosive materials.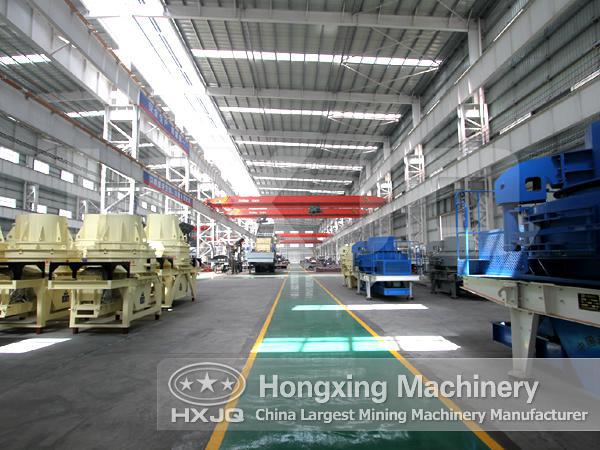 Features Of VSI Sand Maker
1. Simple structure and low construction cost.
2. High crushing efficiency and energy saving.
3. Fine crushing and rough grinding functions.
4. Strong ability of filtering materials that needn't crushing; little influence of material moisture, and the water content can reach 8%.
5. Be able to crush medium hard and extra-hard materials (such as corundum and sintering bauxite etc).
6. Products are in cubic shape and causing little iron pollution.
7. Simple to operate, maintain and install.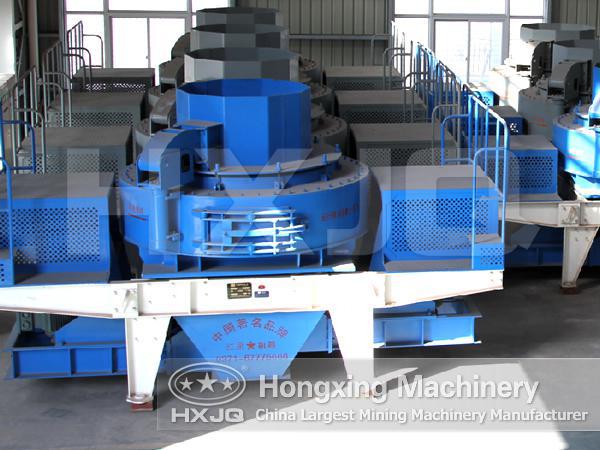 Principle Of Artificial Sand Maker
The materials go into artificial sand maker from the feed hopper and are separated into two parts by the distributor. One part goes into the impeller rotating with high speed from the middle of the distributor, and is quickened inside the impeller, and the acceleration can reach hundred times of the acceleration of gravity, and then the materials will cast from the three uniformly distributed runners of the impeller at a speed of 60-70m/s, and impact and crush with the other part of materials which fall from around the distributor and then they will together impact to the material lining inside the vortex cavity. Bounced from the material lining, the materials will impact obliquely upward to the top of the whirling motion chamber which will change their movement direction again, so that materials will move down, and the materials launching from the runners of the impeller will form a continuous material curtain. In this way, the materials will get two times or more hitting, friction, grinding and crushing effect inside the whirling motion crushing chamber. The crushed materials will be discharged from the bottom discharging mouth.
Technical Data of Sand Maker
Model
specification
Max.feeding
size
(mm)
Power
(kw)
Rotation
speed of
impeller
(r/min)
Capacity
(t/h)
Overall
dimension
(L×W×H)
(mm)
HX-06
35
2P 37-55KW
2000-3000
12-30
2500×1620×2600
HX-07
45
4P 55-75KW
1500-2500
25-55
2700×1760×2800
HX-09
50
4P 110-150KW
1200-2000
55-100
3900×2000×3070
HX-10
60
4P 150-180KW
1000-1700
100-160
4600×2350×3450