Introduction Of High Frequency Screen
High frequency screen uses high frequency, which on the one hand breaks the tension of the ore pulp surface, and on the other hand, the fine particles vibrate with high speed on the screen surface, thus accelerating the separation of big density and useful minerals and increasing the probability that the materials smaller than the separation granularity contact the screen hole.
This creates a good separation environment in which the materials smaller than the separation granularity and especially the materials and pulp with big proportion all can go through the screen holes, making it a highly efficient vibrating screen machine with novel structure.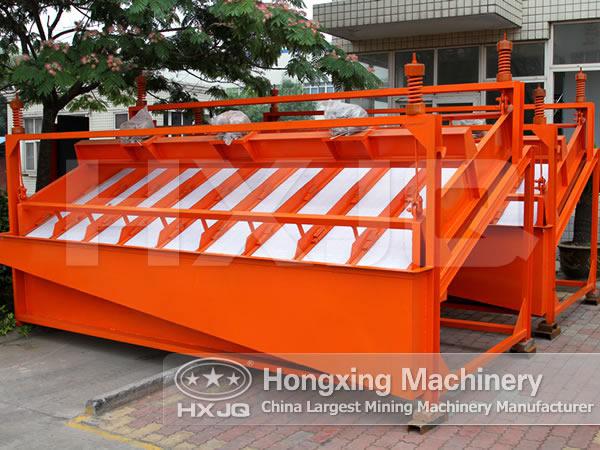 Features Of Mineral High Frequency Screen
1. Using laminated mesh increases monolayer aperture, which not only increases the useful life of the screen, but also can prevent jamming and wearing.
2. The rubber spring of high frequency screen supports the screen frame, which can reduce noise and set vibrating.
3. It is low amplitude, which makes for the classification of fine and heavy materials.
4. Strong production capacity, low energy consumption.
Principle Of High Frequency Screen
High frequency vibration fine screen is called high frequency screen for short and it is a type of classifying machine used in the ore dressing plant. The gap width of the grating of the screen is different, so that it classifies materials according to the material sizes. In the return circuit of the ore grinding process, this machine is used for the control and classification of the grinding ore product and screen out the coarse particles and the raw materials on the screen and return them to the grinding mill for re-grinding. The fine particles under the screen can be timely discharged to avoid re-grinding and over crushing.
Technical Data of High Frequency Screen
Specification
Model
Processing
capacity(t/h)
Power
(kw)
GPS-4
15-25
0.72
GPS-5
20-30
1.1
GPS-6
24-36
1.5
GPS-8
32-48
2.2