Introduction Of Compound Crusher
Compound crusher, which is also called combination crusher, is widely used for the medium and fine crushing of the materials with high hardness and super hardness such as all kinds of ores, cement, refractory, bauxite clinker, emery and glass raw materials. In the artificial sand making, and the crushing of stone materials and metallurgical slag, combination crusher is more widely used and it has higher output compared with other types of crusher machines.
Features Of Combination Crusher
The combination crusher can crush large materials with much water content, so it's the ideal machine to crush high moisture materials. The discharging granularity can be adjusted at will. It adopts the no-grizzly-bar structure to avoid blocking, which is suitable to crush materials with much silt content. Materials that can't be crushed will be discharged from the crusher without causing damage to the machine. The compound crusher can directly crush materials with high efficiency, special structure, reliable running and little noise. It's also simple to maintain; users can easily change quick-wear parts by opening the work bin door.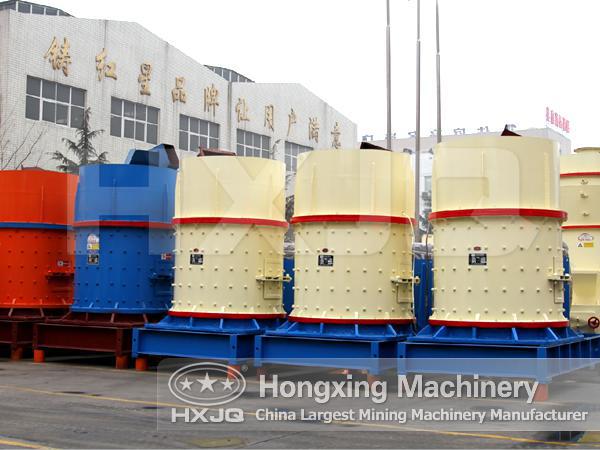 Principle Of Compound Crusher
Materials fall from the upper part of the compound crusher into the impeller rotating with high speed. Under the high-speed centrifugal force, some part of the materials will have high-speed crush and grinding with the other part that are distributed around the impeller in the form of umbrella. After the materials hit with each other, they will form cortex in the space between the impeller and the machine frame, and after many times of mutual impact and friction, the materials will be crushed and finally discharged from the bottom of the combination crusher.
Technical Data of Compound Crusher
| | | |
| --- | --- | --- |
| Specification | Processing Capacity(t/h) | Motor Power(kw) |
| 800 | 5-15 | 4p 30kw |
| 1000 | 10-30 | 4p 55kw |
| 1250 | 20-60 | 6p 90kw |
| 1500 | 30-80 | 8p 110kw |
| 1750 | 40-100 | 8p 160kw |