Introduction Of Magnetic Separator
Magnetic separator is suitable for the wet magnetic separation of such materials whose granularity is below 3mm as magnetite, magnetic pyrite, calcined ore and ilmenite, as well as for removing the iron containing in the materials such as coal, non-metallic ore and building materials.
The magnetic system of magnetic separator is a compound of fine ferrite material and rare earth magnets and the average magnetic induction intensity of the surface of the cylinder is 100~600mT. According to specific need, customers can choose from many kinds of magnetic separators with different surface magnetic intensity such as downstream type, semi-reflux type and reflux-type.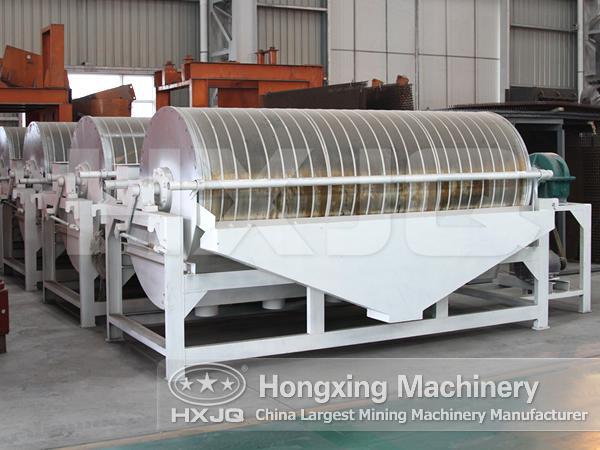 Features Of Magnetic Drum Separator
1. The strength of magnetic field is large in the surface of tube;
2. Large wrap angle of magnetic system;
3. The strength of magnetic field is stability;
4. The transmission system is stable and reliable;
5. Can significantly improve the grade of ore before it is into the mill.
Principle Of China Magnetic Separator
When separating the ores, the swivel rotate in the clockwise direction and ore pulp is fed in by the ore bucket and flows to the inner circle of the swivel along the gap of the yoke. The magnetic media will be magnetized in the magnetic field, and the surface of the magnetic media will form high-gradient magnetic field. The magnetic particles in the ore pulp will be absorbed to the surface of the magnetic media and brought with the rotation of the swivel to the non-magnetic field on top. Then this part of materials will be rushed by the washing water to the concentrate hopper, and the non-magnetic particles will flow through the inner circle to outer circle and into the tailing hopper and then be discharged.
Technical Data of Magnetic Separator
Model
Shell diameter
(mm)
Shell lenght
(mm)
Shell rotation
speed(r/min)
Feeding size
(mm)
Processing capacoty
(t/h)
Power(kw)
CTB6012
600
1200
<35
2-0
10-20
1.5
CTB6018
600
1800
<35
2-0
15-30
2.2
CTB7518
750
1800
<35
2-0
20-45
2.2
CTB9018
900
1800
<35
3-0
40-60
3
CTB9021
900
2100
<35
3-0
45-60
3
CTB9024
900
2400
<28
3-0
45-70
4
CTB1018
1050
1800
<20
3-0
50-75
5.5
CTB1021
1050
2100
<20
3-0
50-100
5.5
CTB1024
1050
2400
<20
3-0
60-120
5.5
CTB1218
1200
1800
<18
3-0
80-140
5.5
CTB1224
1200
2400
<18
3-0
85-180
7.5
CTB1230
1200
3000
<18
3-0
100-180
7.5
CTB1530
1500
3000
<14
3-0
170-280
11