Introduction Of Sand Washer
Sand washer is the equipment used for washing artificial sand and natural sand. This mineral sand washer is a highly efficient machine researched by our company by adopting advanced technology and combining with the actual situation of the domestic and foreign sand and stone industry. Hongxing sand washing machine has such features as high washing degree, reasonable structure and high output, and in the washing process, a small amount of sand is washed away, and in addition, the driving part is separated from water and sand, so that its failure rate is far lower than the commonly used sand washing machine and it is the best choice for the upgrading and updating of the domestic sand washing industry.
Artificial sand washer is widely used for washing and cleaning the materials in sand quarry, mine, building material, transportation, chemistry, water conservancy and electricity and concrete mixing station.
Sand Washer Supplier
Hongxing machine is a professional sand washer supplier, the production of sand washer by the wide variety, the model fully equipped, please send us a message for more details list.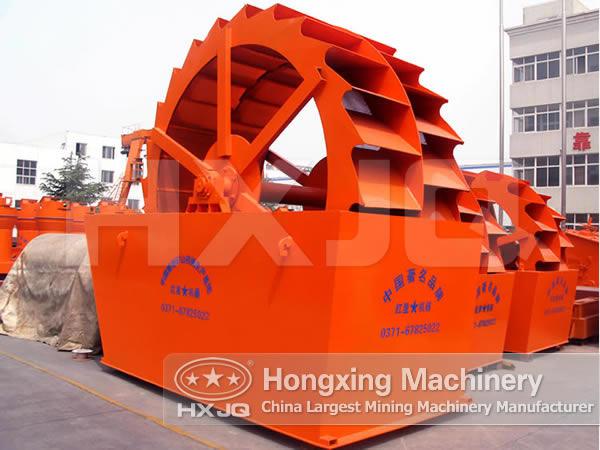 Features Of Artificial Sand Washer
Artificial sand washer has many outstanding features such as simple structure, stable operation, high washing degree and high output so that it is widely used in many industrial departments such as building site, sand and stone plant, glass plant, power plant and concrete sand making.
Principle Of Mineral Sand Washer
When mineral sand washer works, the power unit drives the impeller slowly rotate through V-belt, reducer and gear. The sand materials are fed into the washing chute through the feeding chute, roll driven by the impeller and grind with each other, to remove the impurities covering the surface of the stone and sand and break the moisture layer covering the sand particles to facilitate dehydration. At the same time, add water to form strong water flow to timely bring away the impurities and foreign matters with small proportion and to be discharged from the washing chute of the overflow mouth, thus completing the washing process.
Technical Data of Sand Washer
Specification
Processing Capacity(t/h)
Motor Power
(kw)
2208
15-40
8p 4kw
2611
20-65
8p 5.5kw
2914
50-100
8p 7.5kw
3020
80-200
8p 11kw
3121
90-260
8p 11KW