Introduction Of Cement Rotary Kiln
Cement rotary kiln is one type of revolving kiln and it is mainly used for calcining cement clinker and is the main equipment of the new type dry cement production line. Rotary cement kiln is mainly composed of cylinder, supporting device, supporting device with catch wheel, transmission device, lubrication device, mobile kiln head and sealing device at the end of the kiln.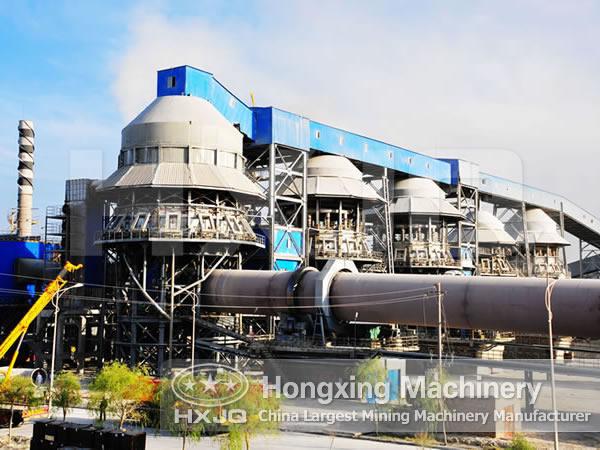 Features Of Cement Rotary Kiln
This type of cement kiln has advanced pre-heating system which accelerates the speed of the kiln and improves the output of unit volume. The sealing effect of this system is perfect and realizes the full utilization of the waste heat, and the dust elimination is simple, convenient and effective and really realizes high quality of the clinker and low consumption of heat.
Principle Of Cement Rotary Kiln for Sale
Pulverized coal (natural gas) burns inside the cement rotary kiln and produces heat which heats the materials through gaseous conductance or radiation, and at the same time, with the constant rotation of the cylinder according to the designed inclination and rotational speed, the raw materials also periodically roll and move forward inside the kilns, so that the raw materials are sent from the feeding end to the discharging end and calcined to qualified clinker in the time period when they go through the rotary kiln, thus achieving the aims of high yield, top quality and low energy consumption.
To get cement rotary kiln price, please leave us a message below or send us an email to [email protected], and we will contact you as soon as possible, thank you!
Technical Data of Cement Rotary Kiln